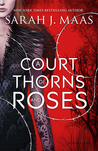 A Court of Thorns and Roses
by
Sarah J. Maas
My rating:
4 of 5 stars
So this is a Beauty and The Beast retelling, but I loved how the author made it her own, not just with the fairies but also the characters which was my favorite part.
None of the characters were white or black. They all had things they've done that they weren't proud of but still tried to live by some sort of principle they established for themselves. Feyre is anything but innocent "Belle" and Tamrin was far from "The Beast" I've known of since childhood.
Surprisingly the one character that didn't quite deliver was Amaranda. The author did such a great job building her evil and twisted side that for some reason I expected her to have more to show for it.
Rhys remains a puzzle and I am really looking forward to book 2 with the hope that more will be revealed about him. By the end of the book I found myself looking forward to another scene of his.
When I think of the world building I can't help thinking about how atmospheric it felt with the description of lush and vivid colors of spring or the opposite with the grim and merciless bite of winter.
Plot wise I loved how the plot twists left me a little shocked because I was driven to believe in something so deep that when the reality shifted I had a "what?" moment. But not in a bad way.
If you love Sarah J Maas writing and storytelling, chances are you will enjoy this book as well. Just keep an eye out for the corny and sometimes erotic romance if that's not your cup of tea. It's easy to skip those scenes because there weren't too many of them (thankfully).