The Kidliterati Ten is an interview series with young readers. We ask them about a favorite book and hope that you enjoy their answers.
Tell us a little about yourself: what is your first name, how old are you, and what is your favorite ice cream flavor?
Sierra, I'm 10. My current favorite ice cream flavor is pistachio almond.
What book did you read and why did you choose it?
I read Fearsome Creatures of the Lumberwoods: 20 Chilling Tales from the Wilderness. I chose it because I wanted to read a creepy book.
Can you describe this book in one word?
Awesome.
What was your favorite part of this story?
Since it's 20 short stories, my favorite story was Hugag (each story is about a different fearsome creature). I liked this one the best because the hugag isn't a carnivore (Sierra is a vegetarian) and it isn't super creepy.
If you had to walk through the Lumberwoods, which fearsome creature would you least like to run into and why?
The squonk because it has wrinkly, warty, loose skin and contagious sadness.
What would you say to your best friend to convince them to read this book?
It's awesome! If you like sort of creepy books, this is really the book for you... PLUS it glows!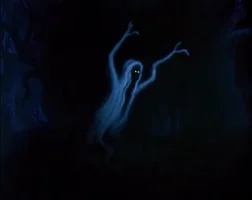 What do you think about the book's cover?
It's the type of book cover that if I saw it at the store, I'd definitely pick it up and check it out. PLUS it glows!
Would you want to read another book about these characters? Why or why not?
Yes because each chapter is a new story so I don't get sick of the book too fast.
Can you name another book that reminds you of this one?
No. I've never read another book like this... Which I think is a compliment.
If you could ask the author one question about this book, what would it be?
How did you come up with all of the names for the creatures?
*Thanks so much for sharing this book with us, Sierra!*
👀🌲👾🌲👾🌲👀
If you're feeling brave and think you'd like to experience the Fearsome Creatures of the Lumberwoods by Hal Johnson, illustrated by Tom Mead for yourself, here's more details...
Just for kids, twenty bone-chilling tales about the most dangerous fantastical beasts in American folklore. Meet the Snoligoster, who feeds on the shadows of its victims. The Hodag, like a spiny-backed bull-horned rhinoceros. The Hoop Snake, which can chase prey at speeds of up to 60 miles per hour and then, with one sting of its tail, cause it to turn purple, swell up, and die.
Illustrated throughout, including eight drawings printed with glow-in-the-dark ink,
Fearsome Creatures of the Lumberwoods
is for every young reader who loves a good scare. The book was originally published in 1910 by William Thomas Cox and is now inspiringly retold by Hal Johnson, author of
Immortal Lycanthropes
. The creatures are all scales and claws, razor-sharp teeth and stealth, camouflage and single-minded nastiness. Straight out of the era of Paul Bunyan, they speak to an earlier time in American history, when the woods were indeed dark and deep and filled with mystery. The tone is smart and quirky. The illustrations have a sinewy, retro field-guide look. Read them around a campfire, if you dare.